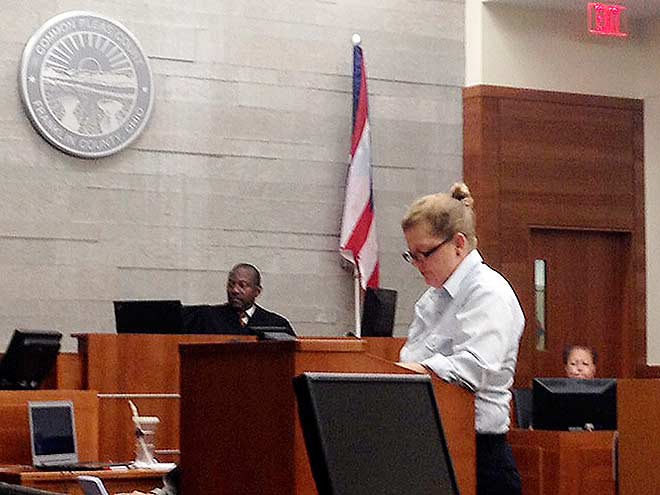 "The law itself is on trial," Monica Greer Justice, a sovereign citizen on trial in  Franklin County, Ohio told the jury in her closing argument in the court last Tuesday while defending herself pro-se against charges for assaulting a police officer.
If that was the case, then the law was found sound by a jury, and Greer, in turn, was found guilty of assaulting a police officer, according to The Columbus Dispatch.
Justice, who uses uses both the term "constitutional activist" and "sovereign citizen" interchangeably to explain her radical belief system, had injured the police officer who was attempting to arrest her inside a courtroom last March. From NBC4i:
A Columbus police officer was injured after falling, striking his head on a court bench while attempting to arrest a suspect in a Franklin County courtroom on Monday.

Officer David Jenkins was attempting to arrest Monica Greer Justice on an outstanding warrant when he was injured, according to Columbus police.

Jenkins was approaching Justice in the courtroom when she became violent and started swinging her arms. As Jenkins attempted to control her, she allegedly started struggling with him.

During the struggle, Jenkins and another person fell to the floor of the courtroom, causing Jenkins to hit his head on a wooden bench.
The prosecution's witnesses included a Municipal Court judge, two assistant Columbus city attorneys, a suburban prosecutor, a defense attorney and the officer, all of whom were cross-examined by Justice, who says that the courts are invalid, told jurors and the court that "police powers are an invention of the judiciary." What happened to her in traffic court, she said, was the same "tyranny, absolutism and despotism" that her ancestors left Europe to escape.
"They don't understand the Constitution," Justice said of the jurors that found her guilty. "And they don't understand that these courts aren't being run according to the Constitution."
The witnesses, however, were not hospitable to her sovereign citizen rhetoric. Sam Shamansky, a defense attorney who witnesses the scuffle in court, told Justice during cross examination,  "All I know is it's all nonsense that you spout. It's not grounded in fact. It's all a figment of your twisted imagination, and there's no question that you think you are either better or different or not subject to the same rules everybody else in this civilized society has to live by. That's why you're here."
When asked for an address in court, Justice gave post-office box for her address and told the court she uses "Lotus" as her first name, which is oddly the same name of somebody who is jointly suing Justice alongside the state of Ohio, The United State of America, and various Franklin County entities.
Judge Stephen L. McIntosh scheduled sentencing for Dec. 11.
Justice, 47, could be sentenced to 18 months in prison for the fourth-degree felony but is eligible for probation.
[Image Credit: Columbus Dispatch]