Senator Marco Rubio (R-Florida) seemingly had it all. He married a former Miami Dolphins cheerleader. He enjoyed a meteoric rise in politics, possessing street cred with both the conservative establishment and Tea Party types. Then everything changed when he ingested a drug that produces diminished mental acuity. Suddenly, Rubio started unleashing commentary like this: "Look, I recognize this [abortion] is a tough issue and I actually do believe that a woman has a right to choose with her body. The problem is that when there's a pregnancy, there's another life involved and that life has a right to live. And so, as policymakers we have to choose between two competing rights, and I've chosen as a matter of principle to choose life in that debate."
My new column "Marco Rubio's Limitless Doublespeak" examines Rubio's 2016 campaign for the Republican presidential nomination alongside quotes from the movie "Limitless" (now adapted into a CBS television series!). It also features my parody music video "Bottled Water," which summarizes several of Rubio's whoppers, lies, and tall tales.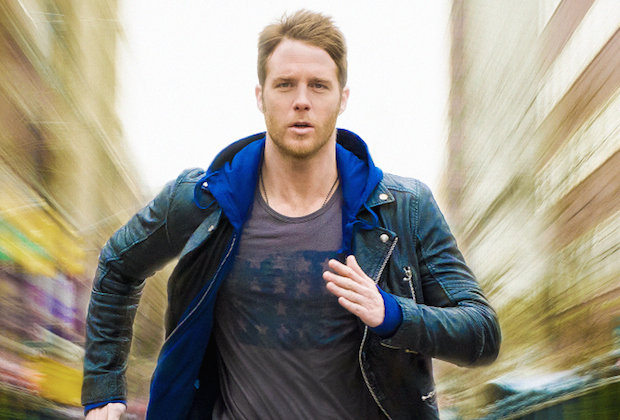 "Well, in order for a career to evolve, I'm gonna have to move on."
"And you would even think that, would only show me how unprepared you are to be on your own. I mean you do know you're a freak? Your deductive powers are a gift from God or chance or a straight shot of sperm or whatever or whoever wrote your life-script. A gift, not earned. You do not know what I know because you have not earned those powers. You're careless with those powers, you flaunt them and you throw them around like a brat with his trust-fund. You haven't had to climb up all the greasy little rungs. You haven't been bored blind at the fundraisers. You haven't done the time and that first marriage to the girl with the right father. You think you can leap over all in a single bound. You haven't had to bribe or charm or threat your way to a seat at that table. You don't know how to assess your competition because you haven't competed. Don't make me your competition."
In 2005, Marco Rubio became the first Cuban American Speaker of the Florida House of Representatives.  Then Florida Governor Jeb Bush gave the bizarre coronation speech: "Chang is a mystical warrior. Chang is somebody who believes in conservative principles, believes in entrepreneurial capitalism, believes in moral values that underpin a free society. I rely on Chang with great regularity in my public life. He has been by my side, and sometimes I let him down. But Chang, this mystical warrior, has never let me down." Bush, turning towards Rubio while uncovering a gleaming golden sword, continued: "I'm going to bestow upon you the sword of a great conservative warrior."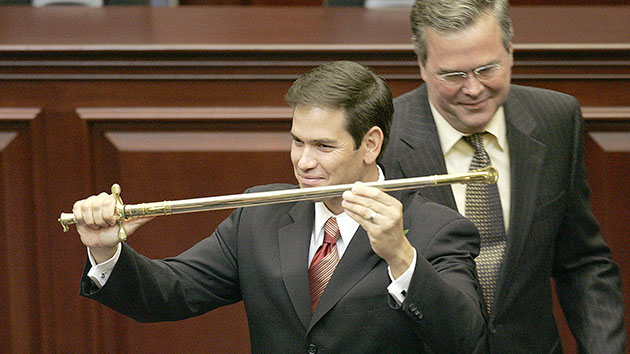 "Why is it when your life exceeds your wildest dreams, a knife appears at your back?"
More recently, Jeb Bush (metaphorically) aimed the great conservative warrior sword at Rubio when he compared his former protégé and now competitor to President Barack Obama, who is of course anathema to conservatives.
"You should really be glad about this, because you know, me working for you, you'd end up being my b-tch."
Rubio's "Macho Man" foreign policy with regard to Syria could put the U.S. on a dangerous collision course with Russia.
"What's the asking price?"
"$8.5 million."
"I'll take it."
Marco Rubio claims that he was a "champion for limited government at the state level." However, when he took over the speaker's chair in Florida he budgeted $2.5 million to redecorate the office and to provide supporters with 20 new jobs. Sound familiar?
Rubio was ahead of his time as a proto-Aaron Schock. Indeed, like Schock, his spending habits were limitless.
"Now be warned – he's mercurial – one minute your best friend, the next you're a leper."
Pretty much sums up how the rest of the "Gang Of Eight" feel about Rubio's flip-flops on immigration reform.
"Your powers are a gift from God or whoever the hell wrote your life script."
https://www.youtube.com/watch?v=bhuF0gLLvk4
Speaking of life scripts, Florida Senator Marco Rubio weaves quite a myth. Rubio, the poster child for Pseudologia Fantastica, is thirsty for your vote for President! Now that's what I call some high quality H2O!
I'm gonna tell you a story – all about my family
Yeah – a thug named Fidel Castro – he exiled my family
Yeah – down there in Cuba New Year's Day 1959
It makes for a great story but for the fact that I am lyin'
They swam across the water to South Florida my home
I am dehydrated – need my water all the time
High Quality H20 – there ain't nothing more sublime
Well I love that bottled water
South Florida you are my home
"Bottled Water"
Lyrics by James Rustad. Copyright 2015. All Rights Reserved.