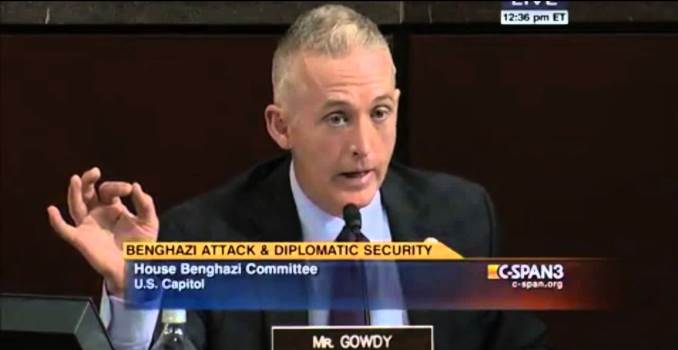 Air Force Reserve major Brad Podliska, the former Select Benghazi Committee staffer who made headlines recently when he accused the panel of undertaking a partisan witch hunt of Hillary Clinton, has filed his defamation lawsuit against chairman Trey Gowdy and the Committee.
Podliska says that he was fired for fulfilling his reserve obligations and his objectivity in assigning blame for the deaths of four Americans in 2012. But Rep. Gowdy has alleged that Podliska was dismissed for mishandling classified information, a claim that Podliska calls defamatory. Serious allegations of misconduct are a career-killer in the national security world.
During the month that [Staff Director Phil] Kiko and [Deputy Director Christopher] Donesa began to treat Plaintiff differently, the Committee's investigation changed significantly to focus on Secretary of State Hillary Clinton and the State Department, and deemphasize the other agencies that were involved in the Benghazi attack and the aftermath of the attack. In particular, Majority Staff who were present during Plaintiff's military service in March 2015 informed Plaintiff that the Committee's investigation had become an "agency-centric investigation," i.e., focused on a single federal agency, the State Department, and that the term "agency-centric investigation" had been used by the leaders of the Majority Staff.

Based upon the facts above, and the general atmosphere created by Kiko and Donesa prior to the Committee's shift to an agency-centric investigation, it was clear to Plaintiff that he was being singled out because of his military service and because he was unwilling to go along with the hyper-focus on the State Department and Secretary Clinton based upon the fact that his comprehensive, thorough, and objective investigation was pointing at other agencies and individuals and not solely the State Department and Secretary Clinton. 
Podliska actually describes the fabrication of the 'mishandling classified information' charge against him, including the improper role of a supposedly nonpartisan House staffer who also told him to delete his work so that Democrats would not see it.
The lawsuit includes a detailed timeline of Podliska's reserve service and the reactions it drew from Kiko and Donesa — elements that go directly to his claim under the Uniformed Services Employment and Reemployment Rights Act (USERRA) of 1994. It also mentions that Gowdy found both men "incompetent."
But Podliska's description of the workplace environment is the part that will surely turn heads:
Senior Counsel Sharon Jackson organized alcohol-infused drinking sessions in the Majority Staff's office during the workday. These drinking sessions were referred to as "Wine Wednesdays," in which some Majority Staff members would drink from custom-made wine glasses that were engraved with the words "glacial pace," poking fun at Benghazi Committee Ranking Member Representative Elijah Cummings. Ranking Member Cummings had used the phrase to suggest that the Majority Staff was slowing down the investigation so that it would end during the 2016 Presidential Campaign. Kiko not only authorized these activities, but he actively participated in the drinking sessions. Jackson also organized a gun buyer's club, in which she and at least three other staff members spent hours at a time during work hours, meeting in the conference room to design custom-made, monogrammed, silver-plated, "Tiffany-style" Glock 9 millimeter semi-automatic pistols.
While he is asking for lost salary, damages, and reinstatement to the Committee, Podliska doesn't want monetary compensation on the defamation charge. Instead, he's asking for a jury to clear his name — and for the court to order Gowdy to stop defaming him.