Not too long ago I saw a tweet from the venerable Ace Of Spades HQ about Sandra Fluke.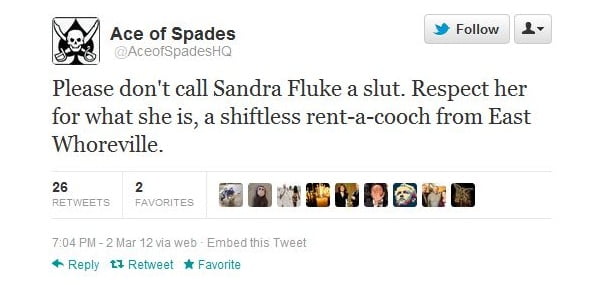 For some reason I decided after reading this tweet to find out just who Ace of Spades was, or more importantly, who was behind the Ace of Spades HQ tweets. Of course one starts out using available search tools, so I started at their wiki to see what was available. It mentioned several people work behind the scenes and post on the main website under their respective nicknames.  It also claimed that Ace had been on several Fox News programs, so I started looking for the person who claimed the Ace of Spades nick on Fox News. Of course none were found on Fox, all I ran across concerning Ace was the usual suspects of Michelle Bachmann and Michelle Malkin commenting about what Ace had said, or how some tweet or post from Ace somehow made their assertions as fact. So from there I decided to start digging into the background of Ace, and what I found out was very interesting. Turns out its a woman by the name of Michele Kerr and below you can read more about her.
Many of us who have read Ace of Spades tweets, posts, and various comments have always thought that Ace was a man. In fact, Ace is a woman. And that part startled me for a bit. Not that I have anything against women bloggers, be they right wing or left wing, but for some reason Ace always reminded me of a guy. At times, one of those fat beer guzzling guys sitting at the corner bar giving everyone a good stare and a talking to about his views on life, sports, and oh yeah, them Muslims out to get us. But in this case this was not to be. Ace it turns out was started by Michele Kerr. And Michele has quite a history online. Here are a few tidbits:
Stanford University: Education Program Tries to Keep Outspoken Student from Enrolling, Demands Access to Private Blog
http://thefire.org/case/799.html
Victory for Freedom of Speech at Stanford: Student Graduates Despite Ed School Efforts to Revoke Admission, Investigate Private Blog, and Declare Student Unfit for Teaching
http://thefire.org/article/10900.html
They Messed With the Wrong Blogger
http://voices.washingtonpost.com/class-struggle/2009/07/they_messed_with_the_wrong_blo.html
Some of the things said in the Washington Post article piqued my interest and are underlined below:
I wish the supervisors of the Stanford Teacher Education Program (STEP) at that university's School of Education had checked with me before they decided Kerr's views and her blogging were inappropriate for a student in their program. They appeared to have decided her anti-progressive views were disrupting their classes, alienating other students and proving that she and Stanford were a bad fit. Kerr says they tried to stifle both her opinions and her blog, and threatened to withhold the Masters in Education she was working toward, based on their expressed fear that she was "unsuited for the practice of teaching."
At times, Kerr has made her Stanford tormentors look silly. There is, for instance, the email Kerr sent to her classmates after the program's director, Rachel Lotan, said some of her fellow teacher trainees found her "domineering and intimidating" and didn't want to sit next to her in class.
"For those of you who wish to continue requesting that you not sit with me in practicum, make sure you mention the reason so that Rachel can build her case for the next time we do our little dance. 'Rachel, I do not want to sit next to Michele in practicum. It has nothing to do with her views; she's just a domineering, overbearing bitch.' DOB. We could print up cards or something. Don't Sit Me Next to the DOB!" she wrote. "I'll continue being me, and those of you who feel uncomfortable can maybe learn how to speak up. Or not. Your call."
She was almost 46, much older than most other STEP program admittees. Single, with a son in college, she had a long career as a business process management consultant, but began to tutor high school students struggling with difficult courses and standardized tests. She found she was good at it. Why not teach full time?
But in September, Kerr's blog, "Surviving Stanford," which she had routinely referred to in her STEP classes, became an issue. Kerr is an expert in online communities and privacy, and thought she understood the rules. On her blog, she praised Sequoia and never identified Sequoia students directly or recognizably.
—
I think this is the same theme that most right wing extremist bloggers use when confronted with their views being right wing or extremist. The first thing that comes out of them is that they have a First Amendment right to say whatever it is they are spewing, but somehow the liberal person that fights back doesn't have such rights, and is often seen as threatening them or stalking them or victimizing them. Second: they always seem as if they are disruptive to what is considered the norm. And third: they are often domineering and intimidating, and always saying that others are trying to stop them from telling some truth that they and only they have and need to tell the world about.
So one might ask just how we came to these conclusions? Well, it wasn't easy, but it wasn't that hard either. It all started with looking at the domain breadcrumbs and going from there.
Domain Name………. aceofspadeshq.com
  Creation Date…….. 2005-01-06
  Registration Date…. 2005-01-06
  Expiry Date………. 2013-01-06
  Organisation Name…. Ace of Spades
  Organisation Address. P.O. Box 3638
  Organisation Address. —
  Organisation Address. Santa Clara
  Organisation Address. 95055-3638
  Organisation Address. CA
  Organisation Address. UNITED STATES
Admin Name……….. J.M. Kerr
  Admin Address…….. P.O. Box 3638
  Admin Address…….. —
  Admin Address…….. Santa Clara
  Admin Address…….. 95055-3638
  Admin Address…….. CA
  Admin Address…….. UNITED STATES
  Admin Email………. aceofspadeshq@yahoo.com
  Admin Phone………. +1.4082304624
At first I thought J.M Kerr was a man, so I went at it looking for J.M. Kerr. But as this rabbit hole went deeper I ended up with this:
Billing Contact Name:                        J.M. Kerr
Billing Contact Organization:                JMK Enterprises
Billing Contact Address1:                    750 W. Greenwich Court
Billing Contact City:                        Palo Alto
Billing Contact State/Province:              California
Billing Contact Postal Code:                 94304
Billing Contact Country:                     United States
Billing Contact Country Code:                US
Billing Contact Phone Number:                +1.4082304624
Billing Contact Email:                       perfecto@theperfectworld.us
The Perfect World.us. Well that site is also linked in the main blogroll of Ace Of Spades HQ website. And now I had JMK Enterprises to look into. Of course what I didn't know was that the ownership was staring me right in the face with the phone number. But before I called it I dug deeper and ended up here:
THEPERFECTWORLD.US
Domain ID:                                   D2705349-US
Sponsoring Registrar:                        R&K GLOBAL BUSINESS SERVICES, INC. (000DOMAINS.COM)
Registrar URL (registration services):       whois.domains.com
Domain Status:                               ok
Registrant ID:                               DOT-Y1UFSBQCTG4T
Registrant Name:                             JM Kerr
Registrant Organization:                     JMK Enterprises
Registrant Address1:                         19500 Pruneridge Avenue, #9202
Registrant City:                             Santa Clara
Registrant State/Province:                   CA
Registrant Postal Code:                      95055 3638
Registrant Country:                          United States
Registrant Country Code:                     US
Registrant Phone Number:                     +1.4082304624
Registrant Email:                            jmichelek@gmail.com
Of course I did the usual address searches, but the email stuck out at me on this domain. So what I ended up with was not a man, but someone named Michele, as is evident in the email for this domain above. Of course the phone numbers pretty much stayed the same throughout, and eventually I ended up calling it. It went to voice mail and revealed one Michele Kerr on the other end. So going through that I decided to look into it even further before I came to any solid conclusions about Michele. This is what sealed it for me, buried in a Google cache shows that Michele Kerr owned the email The Perfect World and was using it while going to Stanford:


Those who wish to see the actual email can go here: The one thing you will notice however is that the email to and from parts are missing in that email. However, Google cached it and left it as it was above where it is highlighted for all to see. This was in effect the smoking gun for me on who was running Ace of Spades HQ, and who started it and or owned it from the beginning. As one can easily see the email in question was Michele Kerr talking about the STEP program at Stanford that she was involved in, so from the above stories one can easily put two and two together.
So it is case closed on the anonymity of Ace of Spades. The real Ace of Spades is not a guy, and also has never appeared on Fox News either, which makes the Wiki about Ace wrong. Of course anyone can edit the wiki so its not hard to have it say whatever one wants it to say and get away with it. While I am sure Michele Kerr has a number of co-bloggers running the day to day operations, we now know who started Ace of Spades, and who really owns it, even though Michele tries hard to obfuscate the Ace of Spades HQ website with MN.NU domains and so forth. I will say this about obfuscating with .NU domains like MU.NU, that doesn't really work Michele if you leave a trail of breadcrumbs all over the net leading straight back to you. Of course I guess you never really thought anyone would call you to find out or dig that deep into you either lol.
A few words to Michele Kerr:  No, you are not an expert on online communities and privacy as you told the Washington Post. You were really rather easy to find. Your trail of online breadcrumbs was also too easy to track. If that qualifies you as an expert, well, seems like experts these days are a dime a dozen.  From now on those who want to know who runs Ace of Spades HQ, well, your questions about it have now been laid to rest. If you don't care or never cared, then this article will not matter to you. I will note that Ace was a very good friend of the late Andrew Breitbart, and also is a friend of John Patrick Frey of Patterico.com, as Frey has used Ace quotes a number of times in various posts that Frey has written. So this is just more of the connections between them being exposed for all to see.