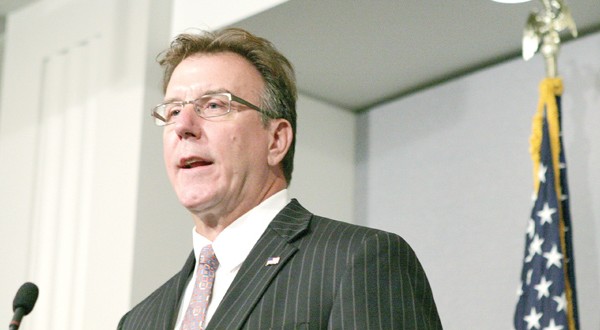 The Republican nominee for State Auditor in Minnesota, Randy Gilbert, has run into a credibility problem in his quest for state office. On Monday, the GOP hopeful's sexy private emails were leaked to KSTP reporter Jay Kolls, allegedly by the ex-husband of Gilbert's lover.
The emails paint a picture of the lurid affair that is wrought with impropriety. Gilbert's lover was a local real estate agent, and most of the emails describe meeting in homes she was ready to show. People who had entrusted their house keys and property to the real estate company obviously had no idea that the couple was meeting to use their homes as a make-shift motel, and indeed, it seems like the danger and risk was a part of the excitement for them:
An email shows the realtor telling Gilbert she has a house the two can visit.

"Thank you, so FWB (friends with benefits), I think that would be a bad idea. I already know what will happen," Gilbert responded in the email.

Her response, according to the e-mail, "now you got me thinking …and again!"

Another email about a home showing suggests the realtor told Gilbert, "hmmmm….a house you will have to control yourself in. Good luck 🙂 (smiley face)."

Another email suggests these types of meetings happened multiple times in different homes owned by other people at the time.

The email using the realtor's account said to Gilbert about a house for sale: "I may have a special place in my……for that one. 🙂 (smiley face). When I think of ALL of the properties we have "visited". I shake my head and get…..not what I expected when I got my license."

An email back from Gilbert's account says "I concur on all of your points."
As state auditor, Gibert would handle billions of tax dollars as a trusted public servant. But it appears that he is already shirking his responsibility to the public — violating a serious level of privacy and trust.
The emails appear to have Gilbert running scared — not exactly the best option for somebody who wants the scandal to blow over quickly. Avoiding the confrontation with the media seems to have become a part of his campaign strategy according to KAAL-TV.
"We repeatedly asked Gilbert for an interview over two weeks and we were told several times we would receive a statement.

When we didn't get the statement we went to a Gilbert campaign fundraiser at Al and Alma's on Lake Minnetonka.

But Gilbert didn't show up for the event. We offered to show the Gilbert campaign the emails as part of an interview. They did not agree to those terms. They wanted to see the emails first and we shared the text of those emails."
As far as the real estate agent in question – she has has not yet been named. She has, however,  told the media that that the emails were faked and/or illegally obtained by her bitter ex-husband, and that although she admits to a sexual relationship with Gilbert, "nothing improper ever happened inside the private homes she was showing him professionally."
[Image Credit: Politics in Minnesota]