If you're interested in an entry-level position, and you live out in the midwest, or Alaska, or pretty much any state in the US that has an AFP branch (their goal is all 50 plus the territories) —  then there's an opening to start shilling for life by starting out as what the Koch-funded Americans For Prosperity describes as a "field associate." A "field associate" is one of the lowest rungs on the AFP ladder, paid just above the $9/hour wage that many of their interns make. Currently, AFP is hiring field associates in about 25 states, including Arkansas, Texas, New Hampshire and even Alaska.
"Associate" apparently means that you're going to be doing some work — hands-on work. (But — the hope is, not a lot of work once you've found local conservatives and co-opted their base.) You're going to be setting up a "grassroots network" in your state:
The Field Associate is a part-time employee who will recruit volunteers, run phone banks, and help plan and manage other grassroots-related activities.   The Field Associate will report to a Field Coordinator who will provide the Field Associate with direction and guidance.  Expected activities will include, but are not limited to, canvassing designated geographical areas, building relationships with prospective community activists and leaders, and engaging the citizenry regarding the merits of economic freedom and policies that promote individual well-being consistent with the respective missions of Americans for Prosperity Foundation (AFPF) and its sister organization, Americans for Prosperity (AFP).  The Field Associate will work up to 20 hours per week. This position is subject to pre-employment background check as a condition of employment.
Think of it like your own, personal right-wing  MLM scam. You're going to be paid to pretend to be a grassroots organization — all the while maintaining the image of more of a volunteer. But you're actually rewarded best for recruiting other people to do your work.
You've also got some quotas, which always makes things a little tense. It's best to have the mentality of a "hard sell".
You've got a lot of literature to pass out and propaganda to deploy. Are you ready to to saturate the local conservative market with AFP-spun ideology?
One great way to do this is to spam the local Republican party's Facebook page: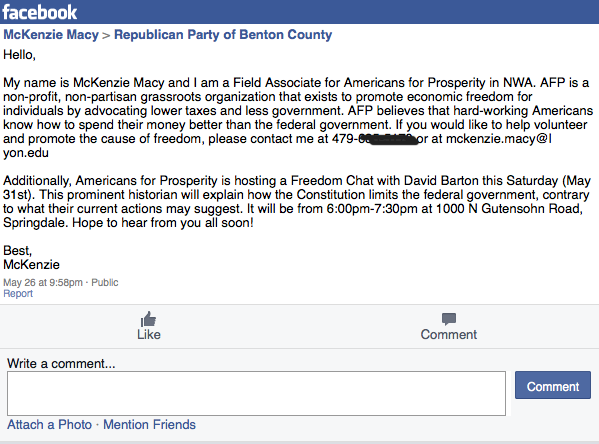 Don't forget to shill for conservative causes on Twitter like these (current and past) field associates:
No probable cause exists to determine an indictment for Darren Wilson. #Ferguson

— John DiGiacobbe (@John_DiGiacobbe) November 25, 2014
How has the federal reserve policy, treating rising wages as inflation (dual mandate), affected income inequality? #JANUSMiamiOH — John DiGiacobbe (@John_DiGiacobbe) October 15, 2014
Nothing new from the President today regarding regarding the VA #putoff #moreofthesame #fakeoutrage — Austin Pendergraft (@austpendergraft) May 21, 2014
If anyone would like an internship, resume builder, college credits, or all three, message me for a great opportunity! #AFP #internship #fun

— Kaitlynn (@Kaitlynn_Skoog) June 12, 2014
Sounds like fun! As basically the newest Kochsucker in the place, you're responsible for recruiting your own army of free labor.
To start off, you'll have to network and recruit a minimum of 20 volunteers who volunteer "16 hours a quarter." That's 1280 free hours of labor a year you'll be recruiting to advance the Koch brothers agenda. But you should really try to do more than that, if possible.
I mean, that's barely enough to manage just four, 4-hour phone banks. And you need people to go to your events, too. So suck it up, even if you're only getting paid to work 20 hours a week. Or else: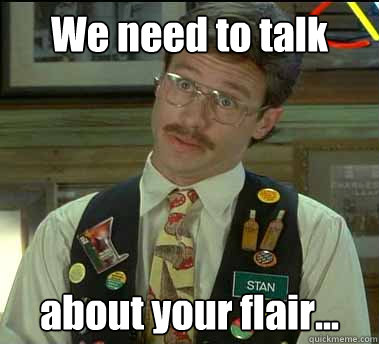 Your other responsibilities will include spoon-feeding AFP ideology, giving them literature to hand out, and giving them scripts to call on behalf of AFP campaigns — most likely,  all the while, tricking them into believing they're working for the local Tea Party as you co-opt local event efforts.
Now remember — you only get paid for 20 hours of your work every week. So you're going to have to hustle to create your downline. Don't worry though — I hear there's a sucker born every minute.
Development associates make about 40k a year at AFP, according to Glassdoor – so it's fairly safe to assume that you'd get about half that if you're working part-time, probably less if you're in a red state and your family is already on food stamps, anyway.
Here's a breakdown of your job duties:
• Network and recruit a minimum of 20 volunteers who volunteer 16 hours/quarter.

•Develop relationships with members of the community receptive to the missions of both AFPF and AFP.

•Engage the citizenry regarding the merits of economic freedom and policies that promote individual well-being.

•Assist Field Coordinators and other AFPF staff with local events from advance work to set up to breakdown.

•Work with volunteers to execute AFPF and AFP phone programs.

•Collect relevant data gathered from phone calls and in-person conversations and enter such data into the appropriate designated databases.

•Provide feedback to supervisors regarding program activities, including input and observations gleaned from members of the public as well as the effectiveness of the provided equipment and tools to accomplish directed tasks.

•Help with logistics relating to canvassing literature and materials.
Now, don't worry, those phone banks will totally be working to promote "economic freedoms" and other things that AFP likes.
For example, on the National Day of Action in July in Evansville, Indiana, phone volunteers made important phone calls to poll people on important stuff, like where they stand on issues like Obamacare. Sounds so much cheaper than hiring a polling firm!
Now, it all seems like an easy job. Scam your local Republicans, family and friends into joining your effort. Set up phone banks. Put them to work for free while polling your base on their opinions. (All the while handing out literature to feed them their opinions. )
P.S. — The literature you may be handing out could look like this:
 Sit around for the other 5 hours a week posting your AFP propaganda on your Facebook pages and you've got a revolution.
Not so bad of a gig, right?
But AFP is sneaky. It turns out that their "qualifications" include some job duties.
One of those is that you must be prepared to walk. A lot.
And no wheelchairs, for sure. Seriously.
And although you're only being paid to work 20 hours a week, be prepared to give up your weekends and evenings. Here are the "qualifications" you must have to start your new Koch-funded career. (PS, yes — seriously you will somewhere along the way be expected to walk for 2-4 miles a day.) :
•Strong networking skills.

•Ability to walk 2-4 miles per day and climb a single flight of stairs, with or without reasonable accommodation

•Outstanding communication skills, both written and oral

•Ability to work evenings, weekends or irregular hours or hours outside of normal office hours preferred

•Ability to work independently, as well as collaboratively with state and national staff, in a fast-paced, deadline-driven, environment

•Strong attention to detail and excellent problem solving skills

•Willingness to perform all duties as listed and any other duties assigned

•Proven ability to work remotely and in an office environment

•Competency with Microsoft Office Suite

•Integrity, humility, and an entrepreneurial attitude

•A positive attitude and an earnest interest in providing good customer service to our members, partners and all state chapters

•A firm commitment to advancing every individuals right to economic freedom and opportunity through free markets
Americans for Prosperity has offices across the United States. It is a powerful conservative organization. In the midterm elections, they spent over 125 million dollars on their efforts to take Congress. In 2012, they deployed an entire army of foot-soldiers who were paid up to $15 an hour to get out the vote for Mitt Romney, as well as sponsored concerts. They spent millions on anti-Obamacare ads in early 2014, and have waged an all-out propaganda war against the ACA.
AFP field associates can eventually become "field directors" of a local region, or move up to state level, where there are statewide "grassroots" directors, organizers, and even communications teams.
P.S. here's the standard ad for a field associate, in its entirety, in case something happens and the job description changes: