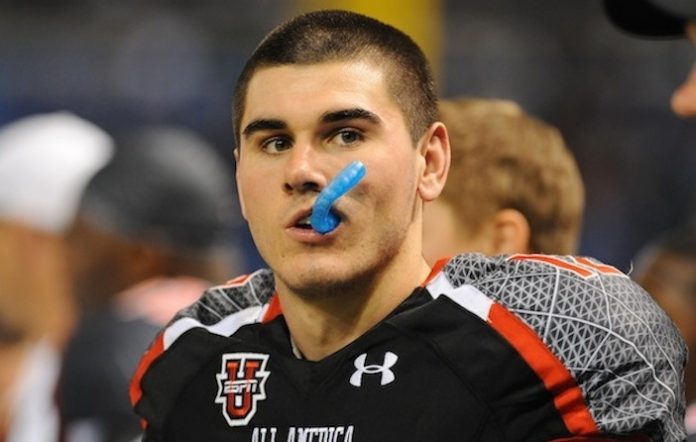 Chad Kelly, a top-rated football player from New York, just signed a letter of intent to play football at O'l Miss team 'the Rebels' last week.
But after a drunken brawl in Buffalo was caught on video, the Rebels will probably be dropping the new addition to the team. According to Total Pro Sports, the incident took place last Saturday night. A witness stated that Chad Kelly had already taken a punch to the face and was bloodied—and the fight in the video below broke out moments later. Witnesses say that Kelly spit blood in the bouncer's face:
Buffalo News reports that Kelly threatened the bouncers at Encore, telling them "I'm going to go to my car and get my AK-47 and spray this place." The bouncers called police, and Buffalo Police pulled him over in his 2005 Ford F-150 pickup truck at 458 Pearl Street. They were met with kicking and screaming:
Kelly was forcibly removed from the vehicle, officers said. Police said Kelly kicked and tried to swing at officers as they removed him from the vehicle. They said he resisted getting into a patrol vehicle and struggled with staff at central booking.

The bar's security staff, Scott May and Clay Hubert, suffered minor injuries in the melee, including pain and swelling, according to the report.

Kelly faces multiple charges including third-degree assault, second-degree harassment, second-degree menacing, resisting arrest, fourth-degree criminal mischief and second-degree obstructing governmental administration. Kelly was arraigned later in Buffalo City Court and released without bail to await further court proceedings.

Kelly and Hickey also were both charged with third-degree criminal trespass. All charges are misdemeanors or violations.
It's not clear if Kelly or his family actually owns any guns.
Chad Kelly is a nephew of Buffalo Bills great Jim Kelly. He had just signed a scholarship offer with the University of Mississippi on Wednesday. He had previously signed with Clemson after a record-setting career at St. Joe's.
Despite resisting arrest, Kelly survived the ordeal without being choked to death or shot by the police.
Imagine that.
I wonder what other disparities in justice we'll see when this case goes to trial. His attorney says he didn't start the fight and was just defending himself.
[Image Credit:Yahoo News]