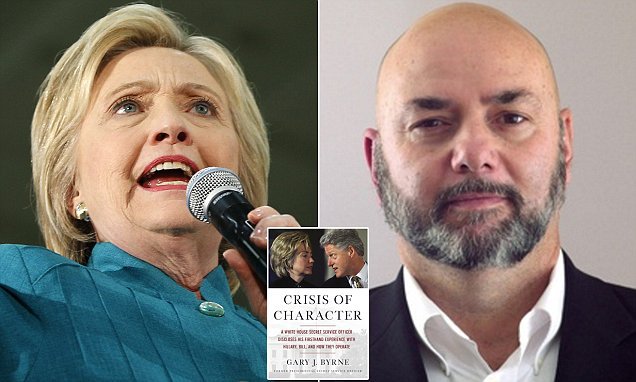 Its Monica Lewinsky time at right wing central. Hillary Clinton, now the presumptive nominee for the democratic party, has to endure a tell all book written by a disgraced (my opinion) former secret service agent, Gary Byrne, who claims he has secret insider knowledge from the Monica Lewinsky days. Yes that's right dear readers, Monica Lewinsky all over again. When will these right wingers ever learn to find something newer to scandalize the Clinton's with? According to a story out in the Daily Mail this morning, the book will reveal:
Ex-Secret Service officer Gary Byrne was posted outside Bill Clinton's Oval Office in 1990s and writes about what he saw in bombshell book
Clinton's intern Monica Lewinsky had special access to the Oval Office for at least two years 
Agents witnessed Bill and Monica 'embracing, making out, or on the Oval Office Desk' 
Byrne was incensed to learn that Monica had Bill's 'secret number' – 'so secret that it required not only a four-digit pass code 
'You had to depress keys for a specific length of time and there were precise pauses between numbers,' Byrne explains
After Byrne complained, Monica was transferred to the East Executive Building and was a Social Office intern under Hillary
But Clinton worked his magic to get Monica, 'the Blue Pass Princess,' back in his arms
The book release comes a month before the Democratic convention  
Its the same old same old, oh they had secret sex on the Oval Office desk. Oh, she had Bill's secret pin number to get into the office, how dare that little tramp have a secret access number for sex. Oh, she had Bill's secret phone number. Oh, she gave him blow jobs, and Hillary threw a bible across the room. Yes that's right folks, a BIBLE, and it was thrown across the room, blasphemy, an evil that only Satan would do. That shit has been regurgitated so many times that it would make a grown man cry. This is all being peddled to the masses as something new in 2016. And get this, the former secret service agent who is selling this screed, Gary Byrne, claims he is telling the world now because, ya know, he wants the world to know the real Hillary Clinton before people go to the polls to vote. He wants to tell the world that Hillary actually threw a Bible across the room don't ya know. Oh such evil. And the sex, oh evil dirty sex. The world must know the following:
On one occasion, after Clinton sighted her, 'she turned back to ensure she had his attention – and flipped up her black-and-white print dress to reveal her blue thong'.

Byrne was just incensed to learn that Monica had the 'secret number' – 'so secret that it required not only a four-digit pass code but a rhythmically coded one'.

You had to depress keys for a specific length of time and there were precise pauses between numbers.

So irate at the 'behind-closed-doors-kind of relationship' the pair was carrying on, Byrne approached the Deputy Chief of Staff Evelyn Lieberman and asked that Monica be removed from the West Wing.

'I believe I have your – the administration's – best interest in mind', he told her.

The next day, Monica was transferred to the East Executive Building where there was no approach to the West Wing. Now she was a Social Office intern under Hillary.

'I do believe Mrs. Clinton knew of the affairs, but how did she feel about an affair with someone of her own daughter's age? And in the Oval Office? In plain sight of us? Still, I don't think she knew of Monica,' he surmises.

But Byrne's appeal to rid the Oval Office of Monica didn't work. Monica was more devious than Byrne initially gave her credit for.

Days later, Monica reappeared with her new pass. 'Look, I have a blue one now,' she told Byrne, that indicated she was now a paid presidential staffer.

Her salary was paid for with taxpayer dollars.

'Now the situation was even worse,' Byrne lamented. Monica was back – on the government dime.

Clinton worked his magic and pulled some strings to get his girl, 'the Blue Pass Princess', back in his arms.

Monica confessed to Tripp that she had given oral sex to the president while he talked on the phone with ambassadors and other dignitaries.

And she revealed to Tripp the details of the semen-stained blue dress still in her possession.

'The staff kept aiding and abetting her and the president wanted her there,' Byrne writes.

'President Clinton paid for a White House mistress with taxpayer funds and jeopardized national security with her compromising and corruptible presence in a secure area, all for little more than on-demand oral sex.
Yes, evil women, thrown bibles, dirty sex, national security broken because Bill got a blow job in a secure area, how dare world leaders get blow jobs in secure areas, and even secret phone numbers with super secret pin numbers. And oh, the sex, the sex I tell ya is real dirty sex. Her mouth actually went on his penis, not once mind you, but numerous times while he talked to world leaders around the globe. According to Byrne, this evil is what the world must know, and this the world shall know in his new tell all book, Crisis of Stupid Of Character, about some shitty sex stories from the 90's being peddled at just the right time in 2016 when Hillary Clinton stands before the voters. Oh and guess who is hosting the first interview? Sean Hannity, yes, you read that right, Hannity, the right wing moron from stupidville who will be the first to let this former secret service agent further disgrace his former badge. Oh the insanity.. It was the best of times, it was the worst of times, but oh was it a terrible time according to Gary Byrne.