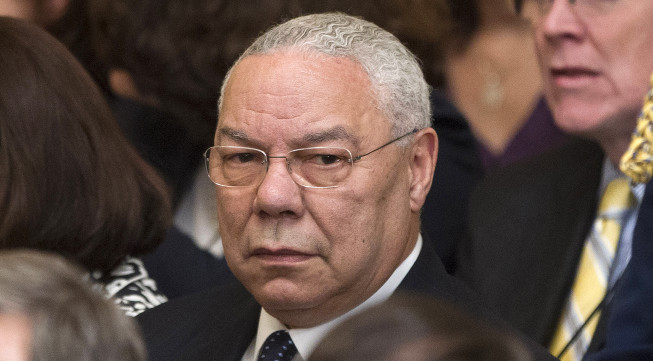 Hacked e-mails from former Secretary of State and Needless War Salesman for Bushco, Colin Powell, reveal a love-not-so-much-love relationship with his eventual successor in the office he held in the Bush Administration.
Oh, he uses the word "dick" a lot, and not as a nickname for "Richard."
According to a story in Talking Points Memo:
"I would rather not have to vote for her, although she is a friend I respect," the retired four-star general wrote of Hillary Clinton in a July 24, 2014 email to business partner Jeffrey Leeds, published by the anonymous site DC Leaks. "A 70-year person with a long track record, unbridled ambition, greedy, not transformational, with a husband still dicking bimbos at home (according to the NYP)."
Oooh. GOSSIPY Colin!
In another email to Leeds dated Aug. 18, 2015, Powell observed, "Everything HRC touches she kind of screws up with hubris."
"They are going to dick up the legitimate and necessary use of emails with friggin record rules. I saw email more like a telephone than a cable machine," he also wrote.
True, an e-mail isn't as formal as an actual written letter, but one must note the faux pas committed by omitting the apostrophe that belongs at the end of the word "friggin'".
Still, Powell's emails about Clinton were a friggin' (note correct usage) Christmas Card compared to his emails about walking cheese puff, Donald Trump.
In a Aug. 21 email to Emily Miller, a former Powell aide turned journalist, the former secretary of state criticized Trump for pushing the "racist" theory that President Barack Obama was born outside of the U.S.

"Yup, the whole birther movement was racist," Powell wrote, according to BuzzFeed. "That's what the 99% believe. When Trump couldn't keep that up he said he also wanted to see if the certificate noted that he was a Muslim."

"As I have said before, 'What if he was?' Muslims are born as Americans everyday," Powell added.

Asked for confirmation of the exchange, Powell told BuzzFeed he had no comment but was "not denying it."
Former Secretary of State Colin Powell warned of the grave threat posed by Donald Trump, who he called "a national disgrace" and "international pariah," in a series of leaked emails first obtained by BuzzFeed News and published Tuesday.
Powell confirmed the authenticity of the emails, which were leaked on DCLeaks.com, a site that U.S. security experts believe is operated by Russian intelligence services.
At least he refrained from using the word "dick". So there's that.