The @Kimberlinunmask account piped up yesterday evening to support Aaron Walker's bid to depose children. Neither KU nor Walker seems to understand that this looks like stalking, and neither seems to understand how discovery works, either. No court in Maryland is going to let them depose children for a fishing expedition. Instead, the operator(s) of this account should start collecting cash for their legal defense, because Twitter is not going to protect them from the inevitable discovery order.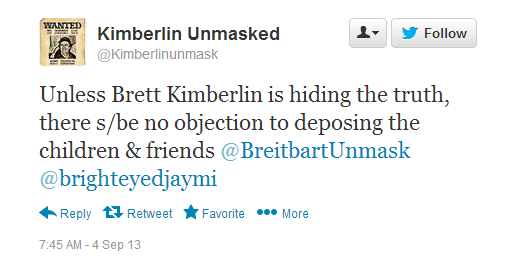 Bear in mind that @Kimberlinunmask is a group account. Earlier this year, Aaron Walker derped and revealed himself to be running it:
It should be clear from the handle that this account exists for the sole purpose of defaming Brett Kimberlin. Observers have identified the following people as possible past or present users, so we will be interested to see what shakes out in discovery:
Kender MacGowan @Kender1 — believed to be the account's original creator. Little is known about him and his blog has been inactive for a long time Edit: McGowan appears in the comments below and denies being a party to the account
Mike Stack @stayoffinternet — a minor figure in Weinergate, Stack has been banned from Twitter more than once for doxing and harassment. Paranoid tweets like this one are characteristic of his style
John Patrick Frey @Patterico — our familiar friend, the Los Angeles Assistant District Attorney and friend of Aaron Walker
Dustin Farahnak @Dust92 — Aaron Walker's co-blogger at the Everybody Draw Muhammad blog
Whoever they are, the person(s) behind @Kimberlinunmask will become known and they should probably retain that attorney sooner rather than later.