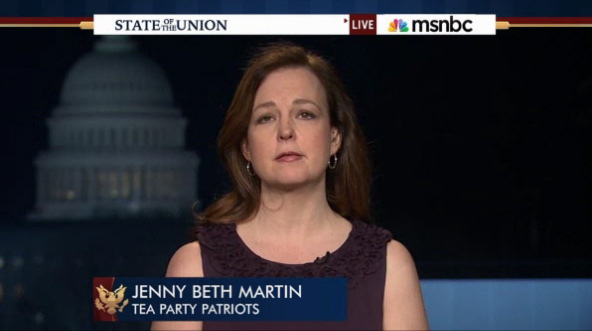 Tea Party Patriots may still be an important national tea party organization, but its connections to grassroots conservative organizing appear to be largely severed. The Institute for Research & Education on Human Rights (IREHR) has verified that TPP has lost 90% of its local affiliates since Jenny Beth Martin won control of the group from multilevel-marketing billionaire Mark Meckler:
Today, the outfit is largely a fundraising, candidate-backing machine.

According to the most recent IRS form 990 available from Tea Party Patriots, Inc. for the June 1, 2012 to May 31, 2013 period, the group's total receipts for the period were a staggering $19,703,978 (see form below for full details). Nearly half of that money went back into fundraising. According to the 990, the group had $8,797,675 in listed fundraising expenses. That's nearly 45 percent of the group's budget. They hired two different high-powered conservative (establishment) fundraising firms, an online marketing firm, two direct mail outfits, four different telemarketing operations, and more than a dozen other independent contractors of $100,000 or more during the period. The IRS documents also show that more money is being spent on fundraising than on programmatic work.
To be sure, Meckler's pyramid-scheme fortune made it very difficult for TPP to erect a grassroots image. But he left the organization out of concern that it had in fact gotten too close to the Republican establishment, and under Martin's leadership TPP has largely transformed into her own personal Republican kingmaking business with Breitbart News as its media arm. Most of its grassroots affiliates have realigned with FreedomWorks or other national organizations, so TPP is clearly even less of a populist organization than it already was. In fact, Martin's personal involvement was easily the organization's second largest investment in the Mississippi Senate race.
TPP has turned into the Jenny Beth Martin Show — a centralized, top-down organization with reduced local impact. Although they had a role in stoking the scurrilous rumors and innuendo about incumbent Senator Thad Cochran, and Martin has begged for donations to replace Cochran with his tea party rival, IREHR's map of current TPP affiliates lists neither of the Mississippi tea party organizations that are most closely identified with insurgent Chris McDaniel's primary campaign. Martin brought $700,000 of TPP's money into the fight, and she was the organization's standard-bearer on the ground for weeks, but it was not enough to beat the incumbent.
So this raises some obvious questions: just how important is TPP anymore? David Brat, the most successful tea party insurgent of the year so far, beat incumbent Eric Cantor without any help from national tea party organizations. According to Laura Ingraham, he "couldn't even get (Martin) on the phone." All politics being local, if the backing of the best-known, best-connected national tea party organization is not essential for insurgent victory — and if she can't win the fights she does pick against the establishment — then how valuable is Martin's organization anymore?
Furthermore, if grassroots activists are no longer on the hook for her excellent pay package with guaranteed first-class accomodations, where is she getting all this money?
Burghart offers an explanation to one obvious question: where are all the 'patriots' going?
(Many have) become untethered from the national factions entirely, growing more militant and more interested in activity outside electoral arena. See the Bundy standoff in Nevada, the angry blockade of buses containing migrant children and families in California last week, and yesterday's announcement that armed groups were heading to the border to "stop the invasion" as signs of this surging militancy.
Boy howdy. When Jenny Beth Martin is no longer genuine enough for the gun-toting prepper set or the militant immigrant-bashers, you know she's truly sold out to The Man.