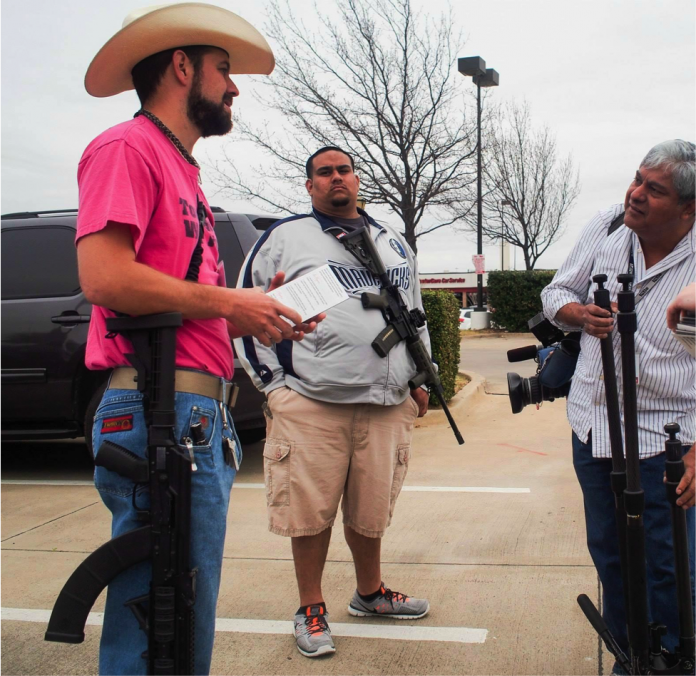 Moms Demand Action for Gun Sense in America launched a national campaign this morning asking Michael Ellis, President and COO, and Mr. W. Rodney McMullen, CEO, of the Kroger Family of Stores to prohibit the open carry of guns in its supermarkets.
The request is in response to incidences of gun violence in and around stores, as well as open carry demonstrations organized by "gun rights" extremist groups that brought gunmen with loaded assault weapons into stores.
Gun extremists have been demonstrating at Kroger stores across the country including in Arkansas, Kentucky, Michigan, Ohio, Texas and West Virginia to promote their "open carry" campaign of intimidation, which even the NRA has denounced as  undermining to the goals of pro-gun advocacy, and back in June their website stated, "Let's not mince words, not only is it rare, it's downright weird and certainly not a practical way to go normally about your business while being prepared to defend yourself," in response to the Open Carry protests in Texas that were following groups of moms around as they advocated for gun sense.
"The history of shootings at Kroger stores underscores the risk of allowing open carry demonstrations and rallies to continue," said Shannon Watts, Moms Demand Action founder says in a press release. "It's impossible for any employee to ascertain the intentions of an individual carrying an assault rifle — and given the potentially deadly outcome of mistaking a criminal for a protester, or vice versa, it is imperative that the largest supermarket retailer in the nation stands up for public safety."
In the past few months, Krogers has experienced gun violence first-hand, with 16 shootings and threats at stores in Arizona, Georgia, Ohio, Tennessee and other states. In June, a woman shot and killed her husband in the parking lot of a Marietta, GA Kroger before killing herself and in February, a man opened fire in a Lawrenceville, GA store and shot two people after allegedly targeting a store employee. Last month, a woman threatened to shoot and kill an employee at a Nashville, TN location.
Despite this, Kroger has not instituted a policy prohibiting open carry.
The Kroger family of stores, is second largest retailer in the country and the nation's largest supermarket retailer, includes Kroger, Fred Meyer, Food 4 Less, Foods Co, Gerbes Super Markets, Ralphs, Smith's, Harris Teeter, Jay C Food Stores, Owen's, Pay Less Supermarkets, City Market, Dillon's Food Store/Marketplace, Baker's, King Soopers, QFC and Fry's Food and Drug.
The Moms Demand Action campaign follows similar actions aimed at Target, Chipotle, Sonic, Chili's and Jack in the Box that led these companies to take swift action. In the end, they chose to stand with Moms Demand Action, adopting policies that prohibit open carry to protect the safety and provide peace of mind to their employees and customers.
You can sign the petition to ask Kroger's to stand with Moms Demand Action here.