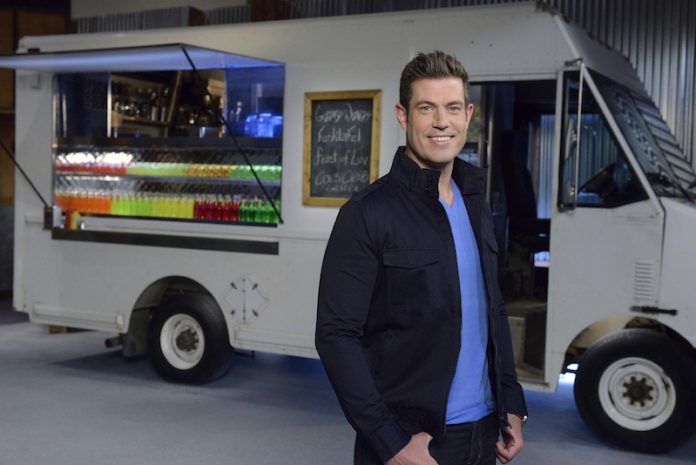 Get ready for more food truck wars! This October, four talented food truck teams will compete in the new show Food Truck Face Off. And the winner of the competition will win their very own customized food truck for a year.
Food Truck Face Off  is set to premier October 2 at 8:00pm ET/PT on Food Network. The series contains 13 episodes and hosted by Jesse Palmer, best known for his sports commentary on ESPN's Thursday Night College Football.
The competition features four teams who present their unique food truck concepts to an expert panel of judges. Based on the viability and quality of their ideas, two teams will be selected to face off in an intense two–day showdown. The team with the highest profits will drive away with the grand prize!
"With the popularity of food truck fare, and after five successful seasons of The Great Food Truck Race, the food truck industry continues to draw passionate food entrepreneurs," said Bob Tuschman, General Manager and Senior Vice President Programming, Food Network. "Food Truck Face Off provides the opportunity for aspiring food truck owners to realize their dreams in a heart-pounding culinary competition that tests every skill needed to succeed, including creativity, business savvy and, of course, culinary skills."
The judges are fierce industry leaders, and they won't be easy to impress.  Included in the mix are impress radio and television personality Steak Shapiro, restaurateur Alpana Singh (The Boarding House), and a rotating panel of guest judges including, Andrew Gruel (Slapfish Restaurant), Robyn Almodovar (Palate Party) and Zane Caplansky (Caplansky's Deli and Thunderin' Thelma), with their food truck concepts.
Then, the two remaining teams must put their ideas to the test on the streets of North America. On the first day, it is truck-against–truck. The team with the best service, food and overall experience is awarded a critical special advantage during the final round.
The final day of the competition, things heat us,  as the trucks must face off not only against each other, but against other local food trucks. The team with the highest profits at the end of the two days will be crowned winner, and will drive away with their own food truck for one full year!