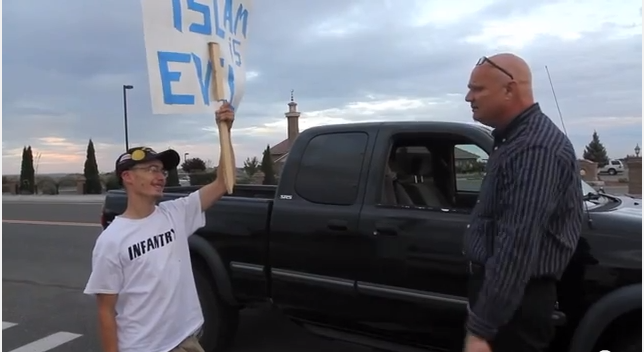 Mike Harmon only recently learned there was a mosque in the Tri-Cities area, and he was so upset that he went to go protest the religion at its front doors.
"It just blew my mind," he told the Tri-City Herald about his discovery of the Muslim cultural center . "I would expect to see that in Seattle, but not here."
So of course he did what any irrational gun-loving nutjob person would do: he wrote up a sign that says "death to Islam" on one side and "Islam is evil" on the other, put on his best protest outfit, and set up across the street from the center parading around with his sign. Of course, prior to the protest, he contacted West Richland police to make sure it was OK for him to carry a concealed weapon.
Harmon also had a sign reading "Terrorists" on the side of his car, with a blue arrow pointing toward the Islamic Center.  "You've got the Taliban, al-Qaida, ISIS — they all follow the Quran," Harmon told the Herald. "The Quran itself is evil. It states there in black and white they want to kill us."
Now he's spending time yelling at people who disagree with him, including a verbal confrontation with a Navy veteran, and local resident Jim Jewell, who Harmon ended calling "unpatriotic". You can watch the painful exchange below, courtesy of the Tri-City Herald. Harmon says he served in the military, including in Afghanistan.
Harmon, who "protested" for about an hour Monday, said he might return to protest Tuesday and that he plans to picket other Tri-City Islamic facilities with a similar sign.
As usual with "lone wolf" extremist types, it's unclear what he expects to result from the protest, but it sure seems like the beginning of a new hate group to me.