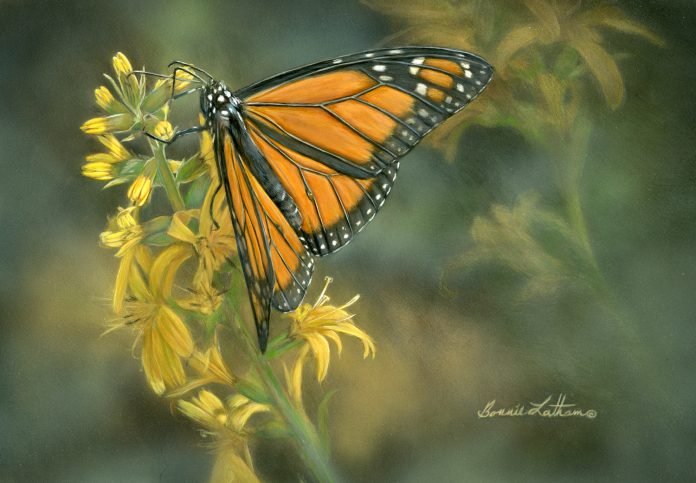 Karen Latham and her daughters, Rebecca and Bonnie, are a trio of internationally recognized artists who specialize in a realistic expression of wildlife. While each artist uses different materials and has a different specialty, each of the women is able to  create exquisite detail in their paintings of animals, birds, and other wildlife scenes.
The Latham family is from Minnesota, but their work has been exhibited around the world, and their shared love of celebrating wildlife in art has raised thousands of dollars for wildlife and conservation. The family's art works are in galleries and museums in the United States and abroad. (They are associated with many art and miniature societies in Australia, Canada, England, Europe, Italy and the United States, to name a few.)
Award winning artist Karen Latham studied with prominent contemporary artists.  "Exploring nature has always been a big part of my life," says Karen about her work. She shares the magic of wildlife in her paintings, and hopes to help viewers better appreciate nature around them.
Rebecca is also very passionate about her art and wildlife. After studying many mediums & styles of painting and sculpture, she now works primarily in watercolor in a traditional Flemish style of working "in miniature." She is well versed in realism and miniature art. Sometimes she even adorns her painting with genuine 24 karat gold and sterling silver. (You can see her work in action below.):

Rebecca says, "I hope to capture the unique beauty of nature that I see to share it with the viewer, that they may treasure them as I do." Her primary goal in her work is to help the creatures she paints as well as their habitat. She participates in wildlife & habitat conservation fundraising events. Her art has even been featured on United States and Canadian conservation stamps.
Bonnie Latham works in watercolor, acrylic, oil, inks, graphite and charcoal. She is widely traveled and spends extensive time in the field observing wild animals in varying habitats. She expresses her personal experiences with quality, depth and shape portrayed in her work such that, the viewer feels as if they are in the field with her.
"It's important to see not just the animal, but the twigs, grass, moss. I bring these into my work," says the artist. Bonnie paints nature, landscapes, animals and birds, and often includes raptors and predators in her artwork. She exhibits in the United States and England, and her artwork has been featured on the United States Fish & Wildlife Service Federal Junior Duck Stamp.
You can see their nature artwork in person at Seaside Art Gallery, in Nag's Head, North Carolina, from November 1st through November 29th, 2014, or check out the slideshow (courtesy of the Latham Family Exhibit) below.
…