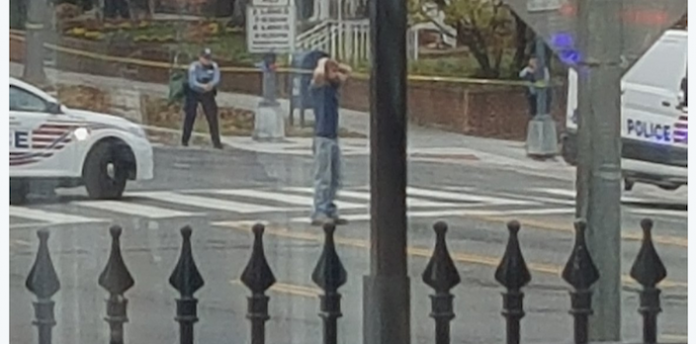 Edgar Maddison Welch of Salisbury, North Carolina, didn't much like what he was hearing about Bill and Hillary Clinton running a child sex trafficking ring out of a Washington, D.C., pizzeria. No sir. So he apparently decided to do a bit of self-investigating.
According to D.C. Police, Mr. Welch entered the Comet Ping Pong restaurant with what police described as "an assault rifle"; there were conflicting reports of gunshots. There were no injuries, but police locked down the surrounding block, which includes other restaurants and shops, including a popular bookstore, Politics and Prose.
According to the Huffington Post:
The restaurant has been the subject of death threats originating from a false right-wing conspiracy theory alleging that Democratic presidential nominee Hillary Clinton and campaign chairman John Podesta ran a child sex trafficking ring in the back of the restaurant.

Welch wanted to "self-investigate" the conspiracy theory, known as "Pizzagate," police said.

There is no evidence of the disturbing claim, but it quickly spread through fake news stories on right-wing websites and circulated on social media. Among those tweeting a spurious story alleging Clinton's "sex crimes" to his more than 100,000 followers, was Gen. Mike Flynn, President-elect Donald Trump's appointee for national security adviser.
According to police, Welch was charged with assault with a dangerous weapon. Police recovered two guns from the restaurant and an additional weapon from his car.
Of course, the same people who spread the Clinton Sex Trafficking story are spreading the fake news that Welch's actions are a "false flag" since he has some minor acting credits.
Welch has had a brief career in the film industry, according to an IMDB profile. He was a production assistant on two independent films, "The Mill" and "A Tale About Bootlegging" and was an actor in another film, "The Bleeding" in 2009.
He also is credited as a writer on the short film "Mute."
Welch graduated from Cape Fear Community College in 2007, according to the Salisbury Post.
Mama always said, stupid is as stupid does.