Tomi Lahren, a.k.a. "White Power Barbie," the Bleached Blonde Vlogger for The Blaze, said Hollywood celebrities should not speak up about the humanitarian crisis surrounding refugees because they would not be the ones ending up with "rapeugees" in their own back yard:
"They will never have refugees or rapeugees in their backyard. I don't think they're going to pump refugees into Beverly Hills…They will never be near one but it's easy for them to stand on a stage and talk about [the issue]. That's incredibly frustrating to me."
Ms. Lahren, hostess of The Blaze's "Final Thoughts with Tomi Lahren," frequently posts her tanning bed tantrums on Facebook. Her shrill, helium-fueled polemics have earned her legendary status as she has become Aryan eye-candy for the "profile photos featuring dead animals" set on social media. Indeed, Lahren's semi-automatic selfies make her quite the pin-up girl for Second Amendment enthusiasts: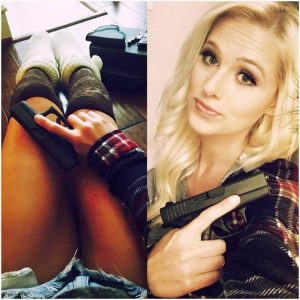 Cultural critic Camile Paglia accused Taylor Swift and Katy Perry of killing feminism and moving society back to the "demure girly-girl days of the white-bread 1950's," which featured the "trinity of blond oppressors" (Doris Day, Debbie Reynolds, and Sandra Dee).  Ms. Lehrer is certainly an archetype of the "blond oppressor" genre. She also utilizes a "smug, snarky, and superior tone," as Paglia said about the on-air attitude of former The Daily Show host Jon Stewart, and talks more than 50% faster than the average English speaker.
Ms. Lahren is a cut-rate (Ann) Coulter for the social media era. She lacks Coulter's elite education, background as a lawyer, depth, and mental flexibility. During an appearance on The Daily Show last year, Trevor Noah quickly poked a hole through Lahren's talking points and she deflated like a blow-up doll under the hot lights in front of the cameras and a live studio audience.  Lahren claimed that she doesn't "see color": "I go after Hillary Clinton and she's as white as they come." Noah brilliantly countered: "You don't see color? So what do you do at a traffic light?" At that point Lahren had jumped the shark, however, like her spirit animal Trump she manages to defy the odds and enjoy continued success after embarrassing guffaws. And so it goes, We the People will suffer through more "Finite Thoughts With Tomi Lahren."