The New York Times reports tonight that President Donald J. Trump applied pressure to several top lawmakers in an effort to get them to drop the congressional investigation into Russia's influence in the 2016 Presidential Election.
President Trump over the summer repeatedly urged senior Senate Republicans, including the chairman of the Senate Intelligence Committee, to end the panel's investigation into Russia's interference in the 2016 election, according to a half dozen lawmakers and aides. Mr. Trump's requests were a highly unusual intervention from a president into a legislative inquiry involving his family and close aides.
There is a statute in the US Criminal Code that covers this sort of thing: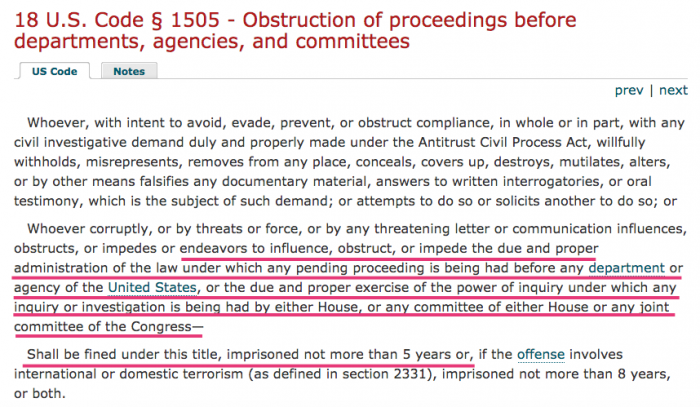 If this report is true, is the President guilty of violating this statute.
Did he try to influence, obstruct or impede the investigation? The Times story says yes.
Senator Richard Burr of North Carolina, the intelligence committee chairman, said in an interview this week that Mr. Trump told him that he was eager to see an investigation that has overshadowed much of the first year of his presidency come to an end.

"It was something along the lines of, 'I hope you can conclude this as quickly as possible,'" Mr. Burr said. He said he replied to Mr. Trump that "when we have exhausted everybody we need to talk to, we will finish."

In addition, according to lawmakers and aides, Mr. Trump told Senator Mitch McConnell of Kentucky, the Republican leader, and Senator Roy Blunt, Republican of Missouri and a member of the intelligence committee, to end the investigation swiftly.
Note: The statute does not say the accused has to successfully obstruct, influence or impede an investigation. If the accused "endeavors" to do so, he can be found guilty. If the Times report bears out, Trump clearly "endeavored."
In conversations with Mr. McConnell and Senator Bob Corker, the Tennessee Republican who is chairman of the Senate Foreign Relations Committee, Mr. Trump voiced sharp anger that congressional Republicans were not helping lift the cloud of suspicion over Russia, the senators told political allies. The Times reported in August that the president had complained to Mr. McConnell that he was failing to shield Mr. Trump from an ongoing Senate inquiry.

The earlier call with Mr. Burr, however, was perhaps the most invasive, given Mr. Burr's role directly supervising the Senate's investigation of Mr. Trump.

Mr. Burr told other senators that Mr. Trump had stressed that it was time to "move on" from the Russia issue, using that language repeatedly, according to people who spoke with Mr. Burr over the summer. One Republican close to Mr. Burr, who spoke on condition of anonymity, said that Mr. Trump had been "very forceful."
Republican lawmakers are downplaying this report, saying the President is a political newcomer. But the Supreme Court has ruled on multiple occasions that ignorance of a law is not a defense for violating said law.
Tonight's news adds further context to President Trump's anger at Attorney Jeff Sessions' decision to recuse himself from the Russia investigation and Trump's subsequent decision to fire then-FBI Director James Comey for failing to put the brakes on the probe.
In a White House interview on May 11, President Trump told NBC's Lester Holt that he was preparing to fire FBI Director Comey regardless of the recommendations from the attorney general and deputy attorney general.
TRUMP: Oh, I was going to fire regardless of recommendation.
HOLT: So, there was…
(CROSSTALK)
TRUMP: They — he made a recommendation. He's highly respected. Very good guy, very smart guy.
And the Democrats like him. The Republicans like him.
He had made a recommendation. But regardless of recommendation, I was going to fire Comey knowing there was no good time to do it
And in fact, when I decided to just do it, I said to myself — I said, you know, this Russia thing with Trump and Russia is a made-up story. It's an excuse by the Democrats for having lost an election that they should've won.
And the reason they should've won it is the electoral college is almost impossible for a Republican to win. It's very hard because you start off at such a disadvantage. So, everybody was thinking they should've won the election. This was an excuse for having lost an election.
HOLT: But were — are you angry…
(CROSSTALK)
HOLT: …angry with Mr. Comey because of his Russia investigation?
TRUMP: I just want somebody that's competent. I am a big fan of the FBI. I love the FBI.
HOLT: But were you a fan of…
(CROSSTALK)
TRUMP: …people of the FBI.
HOLT: him taking up that investigation?
TRUMP: I think that — about the Hillary Clinton investigation?
HOLT: No, about — about the Russian investigation and possible…
TRUMP: No, I don't care…
HOLT: …links between…
TRUMP: Look — look, let me tell you. As far as I'm concerned, I want that thing to be absolutely done properly.
When I did this now, I said I probably maybe will confuse people. Maybe I'll expand that — you know, I'll lengthen the time because it should be over with. It should — in my opinion, should've been over with a long time ago because it — all it is an excuse.