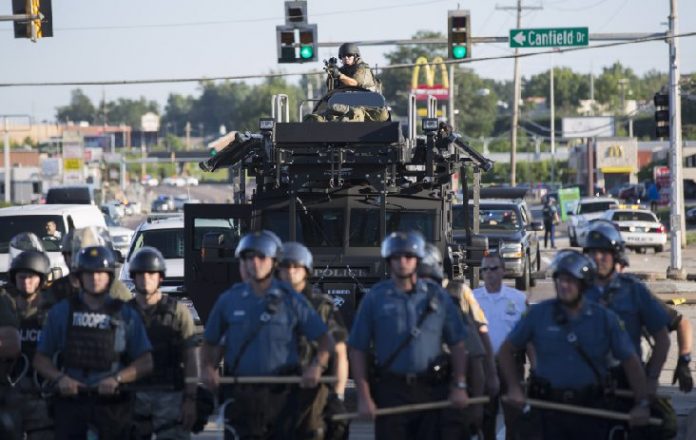 Michael Brown's killing in Ferguson, Missouri isn't a singular event. In the past month, there have been similar killings of four other black men by police throughout the United States. Jeffrey Mittman, executive director of the ACLU's Missouri chapter put it bluntly in a statement of condolence to Brown's family, "Unarmed African-American men are shot and killed by police at an alarming rate. This pattern must stop."
The pattern is one that's familiar to many city dwellers. It's a well-documented fact that the majority of police arrests in urban environments are disproportionately men and women of color. Studies have shown that racial disparities are prevalent in drug law enforcement, where marijuana usage among black and white people is roughly the same, yet black people make up the majority of arrests and incarcerations and arrest, pointing to selective enforcement. African Americans represent just 12% of monthly drug users, but comprise 32% of persons arrested for drug possession. In 2002, blacks constituted more than 80% of the people sentenced under the federal crack cocaine laws, according to the ACLU.
Logic tells us that the more likely you are to be arrested, the more likely you are to experience police brutality.
Civil rights violations are bound to happen if you are one of the people who is systemically targeted for arrest on a daily basis.
Experts indicate that systematic change in policing is long overdue, "Although the circumstances of these tragic killings are all slightly different, they have one thing in common," says Jeannine Bell, an IU Maurer School of Law expert on police behavior and hate crimes.  "These men were killed because the police saw them as dangerous suspects, even though emerging witness accounts suggest that several of the individuals killed did not pose a serious bodily threat to the officers who responded with deadly force."
Bell said that despite years of consent decrees and other legal mechanisms, police killings of unarmed black citizens will continue until the culture of law enforcement fundamentally changes. "The best way to change the culture is get police officers to see blacks not just as suspects, but also as crime victims."
Prosecuting and investigating crimes within black communities would be a good way to begin to bridge the trust. Poor, black communities have suffered at the whims of law enforcement that has selectively prosecuted crimes for too long.  According to the ACLU, about $70 billion dollars are spent on corrections yearly to incarcerate a majority-black prison industrial complex every year.
"It is not surprising to see that the domination of African Americans in Ferguson is consistent with the state sanctioning of violence against black people, many of whom are very poor," Valerie Grim, professor and chair of the Department of African American and African Diaspora Studies at UI, says, "Yet, consistent with history and the need black people have always had to be heard and to have agency, the African American community in Ferguson has rightly stood up. They are not just standing against the white structural racist establishment in Ferguson, but against history and ideology, a way of thinking that views blacks as less than.  Michael Brown is the impetus for this current moment, but the people of Ferguson have larger issues and struggles against systemic white power, like the kind that killed Emmett Till.
And change may be in the wind, after all, through key Obama administration actions. According to The National Law Review, the U.S. Department of Justice under Attorney General Eric Holder Jr. "has filed a record number of criminal police-misconduct cases and aggressively used civil laws to force reform at police departments across the country."
The federal investigation into the shooting death of Michael Brown in Ferguson, Mo., marks one of the most visible cases to date for Holder's DOJ's Civil Rights Division.
On Monday, Holder on briefed President Obama about the investigation as the shooting victim's family demanded accountability as the National Guard mobilized. Holder will personally go to Ferguson on Wednesday to meet with the community and assess the Justice Department's civil rights investigation, after being urged by civil rights organizations, including the U.S. Commission on Civil Rights, to intervene.
Let's hope that the local law enforcement community re-thinks their budgeting as well as the role of law enforcement. Back to basics with "protect and serve" would be a good place to start, and it's a lot easier to justify spending money on new training methods and community outreach than training cops as machine gunners driving surplus Army tanks, even if the tanks and guns were actually free.
A lot of the country would sleep a little better at night knowing our SWAT teams aren't going to raid our neighborhoods with tanks.