It's Halloween, and the Dutch rescue center FELIDA has already kicked off their own very special Halloween celebration with their cadre of large cats. Lioness Noor, lion Giovanni and leopard Bakari were thrilled with their new enrichment toys — they were presented with their own personal big Halloween pumpkins to play with.
The pumpkins provide enrichment activity that helps the animals to rediscover their natural behavior. A lot of big cats in rescue situations have had their sense and instincts dulled from years poor living conditions, neglect and sometimes abuse. Presenting new items and scents help to alleviate boredom and improve the general well-being of the animals.
Lion Giovanni was born into a life of servitude — he used to be a tourist attraction in Italy. Travelers paid to have their picture taken with him as a young cub. In 2005, at the age of one, he became too big and heavy to be carried and was handed over to the rescue station.
Giovanni nibbled at his pumpkin for so long it finally broke into small pieces.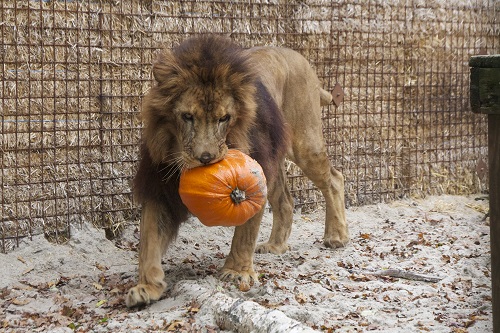 Lioness Noor originally comes from a zoo. She's been with FOUR PAWS sanctuary since 2006. When given her Halloween treat, Noor inspected it from all sides before she finally grabbed it and carried it delightedly back and forth in her enclosure.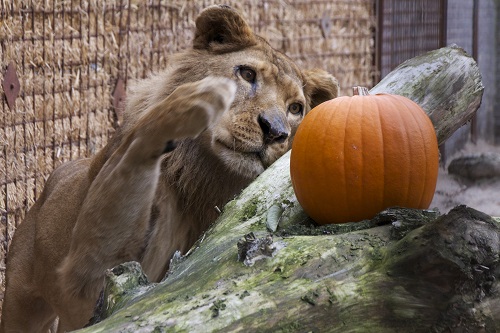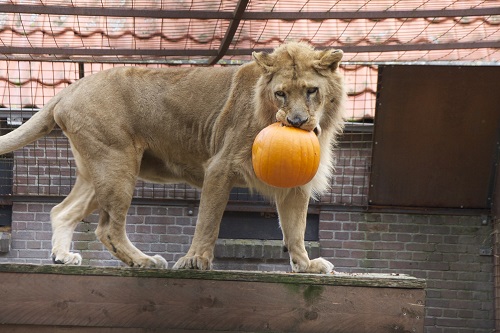 Bakari, an African leopard, was also very pleased with his large pumpkin snack. Born in a German zoo, he spent much of his life caged where visitors could take pictures with him. When the zoo was no longer interested in him, he came to the FOUR PAWS rescue center. Bakari is a rambunctious creature — he decided that the pumpkin was perfect for  pouncing on  — over and over again. As a result, the pumpkin was soon pulverized.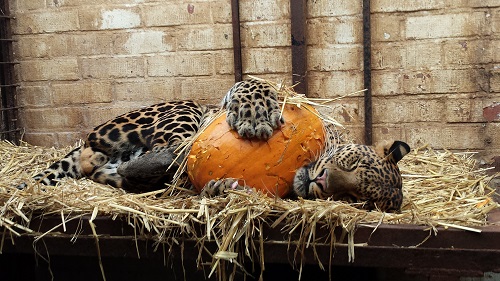 FELIDA, where the cats are currently placed, is a FOUR PAWS rescue centre for big cats in the Dutch village of Nijeberkoop that has existed for 20 years. In October 2013, the Vienna-Austria and Boston-MA based FOUR PAWS took over the center and started implementing necessary changes to improve the welfare of big cats.
In the future FELIDA will become a transit station for big cats, as well as a permanent center for those animals that cannot be transferred anymore, and all treatment of cats will meet the FOUR PAWS standards for animal welfare and safety.
There are currently 2 lions, 15 tigers, a black jaguar, and two leopards at FELIDA.
[Images and story courtesy of FOUR PAWS]