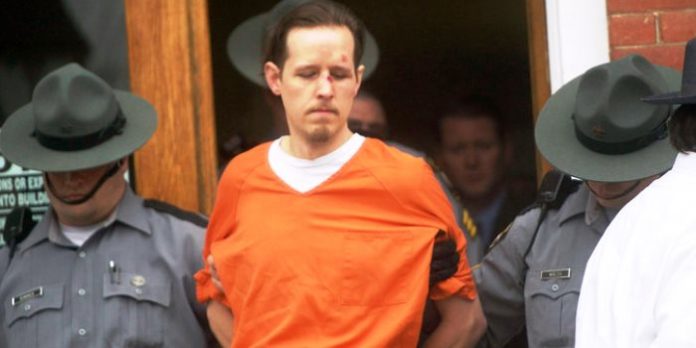 A survivalist and Serbian war reenactor who became the subject of a seven-week manhunt after allegedly killing one Pennsylvania state trooper and wounding another was captured yesterday by US Marshalls near an abandoned airstrip in the Poconos.
Arraigned today in Pike County for first-degree homicide of a law enforcement officer and other charges, 31 year-old Eric Frein will now face the death penalty.
Along with a .303 sniper rifle, law enforcement officials say they recovered a diary from the airstrip that includes an entry dated on the night of the killing.
"Got a shot around 11 p.m. and took it," he wrote in an entry dated Sept. 12. "He dropped. I was surprised at how quick. I took a follow-up shot on his head, neck area. He was still and quiet after that.

"Another cop approached the one I just shot," Frein continued. "As he went to kneel, I took a shot at him and jumped in the door. His legs were visible and still."
Frein was reportedly arrested with handcuffs that belonged to the officer he allegedly shot to death. Frein is accused of shooting at the two troopers and a 911 dispatcher from a sniper's ambush outside the state police barracks at Blooming Grove, where he was also kept overnight after his capture.
A crowd of local citizens turned out to see and confront Frein as he left the barracks this morning for court. The community has been under lockdown during the manhunt, with hunting and outdoor activities curtailed for public safety. Residents were celebrating the fact that his arrest had taken place in time for Halloween trick-or-treating.
Law enforcement sighted Frein more than once during the dragnet, but rough terrain made it impossible to approach him and make an arrest.