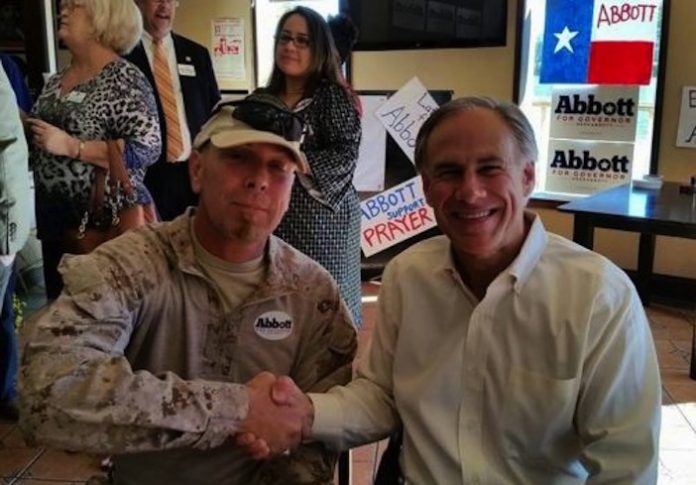 Four days before the U.S. Alcohol, Tobacco, Firearms & Explosives (ATF) agents arrested Kevin Lyndel Massey in Brownsville, Texas with a cache of ammonium nitrate,  he attended an event where gubernatorial candidate Greg Abbot was stumping and handed him his phone number, according to images preserved by ValleyCentral.com from his now-deleted Facebook.
At least two photos were taken of the two while they met as Abbott stumped at Brownsville restaurant Cobbleheads on Oct. 16. The images show a smiling  Massey wearing an "Abbott for Governor" sticker on his military fatigues and shaking hands with Abbott.
Video footage from Fox 2 News in Brownsville also shows Massey taking photos of Abbott while wearing a GoPro camera on his head. (The camera fits the description of on that was later confiscated during the raid.)
In addition to ammonium nitrate, Massey was arrested in possession of an AK-47 with six loaded magazines, a loaded handgun, and a ballistic helmet. The 48-year-old from Quinlan, Texas is a convicted felon who is being charged with illegal possession of a firearm, although it seems likely that there are further charges that are pending investigation.
Known to family and friends as "KC," Massey is a member of a border watch group that set up Camp Lone Star, a border group that has initiated several anti-immigrant protests in Brownsville and "patrols" about 6 miles out of the 2000 shared by the Texas/Mexico border.
Abbott deputy communications director Amelia Chasse told MySanAntonio that Abbott and his campaign did not know who Massey was when the candidate posed for the photo. She declined to comment whether Massey posed a security threat to Abbott.
"This individual was part of a photo line at a public event and Greg Abbott took a photo with everyone who was in the line at that event," Chasse said.
Since Massey's arrest on October 20th, two more arrests have followed, but federal court records in the Brownsville case remain sealed at this time. An investigation is ongoing.