Organizers of the Olympia, Washington "I Will Not Comply Rally" promised a storm of over 5000 fed-up, well-armed patriots and an all-star lineup of speakers, but only about 600 to 800 gun enthusiasts managed to attend on Dec. 13, according to the Washington State Patrol.
Of course, the number of attendees counted various according to who you ask. Organizers told the Spokesman Review that 1,000 to 2,000 demonstrators attended the event that was protesting the passage by majority vote of  I-594. Initiative 594 closes a security loophole in Washington State by requiring that private sales and transfers —including those at gun shows or on the internet— go through the same background check process as sales through a licensed gun dealer, according to the Washington Alliance for Gun Responsibility.
Ammon Bundy —  the son of Cliven Bundy, the anti-government, anti-tax Nevada rancher involved in a standoff with the federal government earlier this year — did not show up to speak. However, speakers were there to rant against Obama and the UN's ultimate agenda of taking over America by taking away our guns. The crowd was mostly men, and a few women, with many dressed in camos and militia-garb. Dozens of individuals open-carried with rifles and shotguns slung over their shoulders.
One couple with their friends donned wedding garb as they took pre-wedding photos with an AR-15 on the capitol building steps.
Protesters carried signs warning about the great gun ban our government will be making any day now.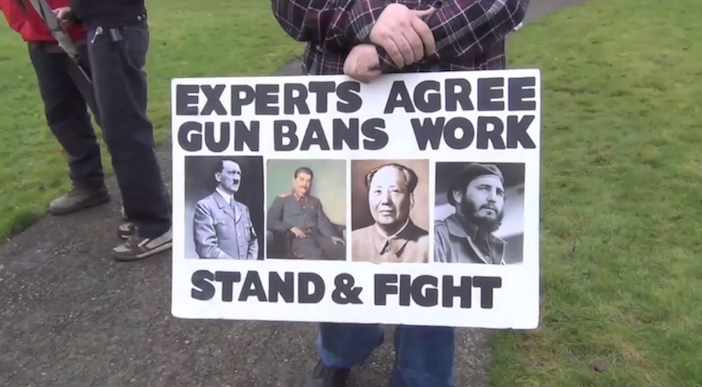 And if you ask right-wing extremist Sheriff Mack — he said there was a total of 5,000 people attending. If you check the clip, he doesn't quite seem to understand why he's there. Something about guns and tyranny? Whatever it is, he didn't seem to be aware (or care?) that I-594 was a ballot initiative passed by the majority of voters. Not politicians.
From about :42 seconds into the clip:
"…This is where everyone should be, in Olympia Washington, standing against the tyranny of these idiot politicians here in Washington, who think that they have the right to restrict, uh, our freedoms and liberties as established within the..Bill of Rights. And so..uh..uh I love it. We've got a great crowd here, I don't know, I don't know…about 5000 people or so…but uhmm..thanks to everybody..and uh, remember…The Second Amendment is only about liberty, and families…and, uh, history."
While Gavin Seim and other organizers behind the event had every intention of mass civil disobedience, the Highway Patrol had previously stated that they didn't plan on arresting anyone for passing around their guns for a massive show-and-tell exercise. They were true to their word, according to the Spokesman-Review:
A few passed their firearms back and forth in an effort to violate the new law's provision that requires a background check for a "transfer." But their attempts at civil disobedience brought no arrests or citations.

"We're going to let them do that," said Trooper Guy Gill of the Washington State Patrol. There was a difference of opinion during the recent initiative campaign whether such actions violate the law, with the sponsors of I-594 insisting they do not.
However, other attendees wanted to truly break the law, by permanently selling their arms to other gun buyers. But it appears few of the protesters came to the rally strapped with cash and aiming to buy:
One protester in a red and white Santa hat, who gave his name simply as Richard from Clark County, was trying to violate the law by offering a rifle, an Interarms Mark X, for sale for $600 and not performing a background check on the buyer.

Richard bought the rifle from a private seller about 15 years ago and it was just gathering dust, he said. He didn't go through a background check when he bought it, so "why should I subject anyone else to that?" he asked.

But as the rally was wrapping up in the late afternoon, Richard said he'd had a few inquiries but no buyers, so he hadn't had a chance to break the law.
I-594 was a ballot initiative in the midterm elections that passed with 59% approval, but gun rights activists told their audience its passage was a mistake. Some voters didn't understand its provisions, they argued. Others blamed its passage on some gun-rights supporters not voting and major gun-rights organizations fighting among themselves.
"It's impossible to enforce this law," said state Rep. Elizabeth Scott, a Republican from Monroe, Washington. "There are more of us than there are of them."
Rep. Scott urged protesters to return to Olympia during the upcoming legislative session when more gun-control bills will be introduced. There will also be will efforts to roll back some provisions of I-594 or completely repeal it. A repeal effort "won't go anywhere, but we're going to try," she admitted. She also read a message from Rep. Matt Shea, R-Spokane Valley, that said he couldn't attend the rally. (But he is totally was with protesters in spirit and denounced I-594 from the comfort of whatever nice place he decided to stay home from.)
Gavin Seim, a failed Republican candidate and the organizer of the rally, finished off the event by burning his concealed weapon permit on stage to a lingering group of supporters. He  insisted the government didn't have the authority to "give him permission to exercise his rights" — which extend well beyond common firearms — all the way to heavy military equipment. (Seim's speech is at about 1:32 until the end.)
"If you want a tank in your front yard, then buy one … your house will be the safest on the block," Seim said. "If you want to own a bazooka, own one."
He claimed the right to bear arms is in the Constitution and can't be taken away by the Legislature or "by the collective, uninformed majority."
That's what he's calling the voters.
P.S. There's a great gallery of attendees available at the Spokesman-Review, but the image below, showing what a "gun pass"  looked like , was my favorite. Why does "I'll show you mine if you show me yours?" come to mind here?: