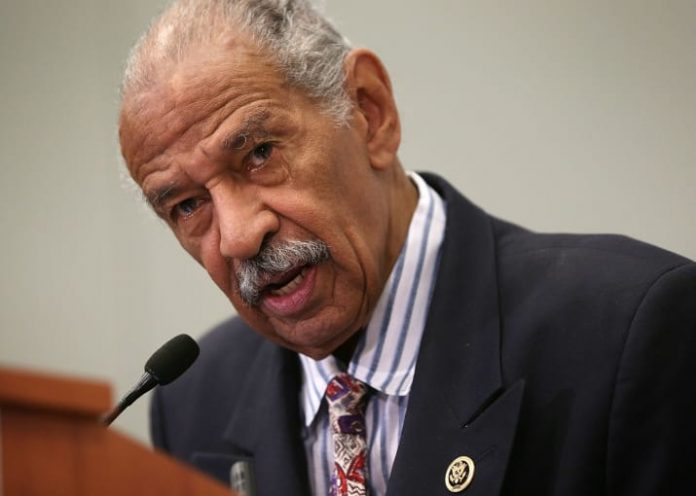 Buzz Feed reports that Michigan Rep. John Conyers paid $27,000 to a female staffer to settle allegations that she was fired for refusing his sexual advances. The documents provided to Buzz Feed were served with a side of mozzarella sticks by Mike Cernovich, the men's rights figure turned pro-Trump media activist who propagated a number of false conspiracy theories including the "Pizzagate" conspiracy.
Cernovich said he gave the documents to BuzzFeed News for vetting and further reporting, and because he said if he published them himself, Democrats and congressional leaders would "try to discredit the story by attacking the messenger." He provided them without conditions. BuzzFeed News independently confirmed the authenticity of the documents with four people directly involved with the case, including the accuser.
Conyers says he has no knowledge of any such agreement.
Unlike Cernovich's other deliveries, there may in fact be some meat on this despicable pizza.
BuzzFeed News reached out to several former Conyers staffers, all of whom did not want to speak on the record. One former staffer, who did not want to be named, said she was frustrated by the secretive complaint process.
"I don't think any allegations should be buried…and that's for anyone, not just for this particular office, because it doesn't really allow other people to see who these individuals are," said the former staffer. "When you make private settlements, it doesn't warn the next woman or the next person going into that situation."
Another staffer said Conyers' reputation made people fearful to speak out against him. Aside from being the longest-serving House member and the ranking member of a powerful committee, Conyers is a civil rights icon. He was lauded by Martin Luther King Jr. and is a founding member of the Congressional Black Caucus.
"Your story won't do shit to him," said the staffer. "He's untouchable."
In a statement to BuzzFeed News, House Democratic Leader Nancy Pelosi said she was not aware of the settlement.
The floodgates are open. No closing them now.