Yesterday, I showed you the bankruptcy filing of Lynn Thomas, who was unmasked last year as the hatemonger and hypocrite behind the "Kimberlin Unmasked" Blogspot domain and Twitter account. Reportedly separated from her husband, she now lives with her father Peter in St. Charles, Illinois; that's their house in the picture above. Both Lynn and Peter are named in lawsuits filed by Brett Kimberlin, and it is readily apparent from their latest response motion that they are getting terrible legal advice from co-defendant Aaron Walker.
Walker, who did more than any of his fellow defendants to instigate these lawsuits in the first place, is the legal genius behind the defendants' strategy of constantly nitpicking every jot and tittle on Mr. Kimberlin's certified mail. In their response, Peter and Lynn Thomas claim that Mr. Kimberlin failed to check the "Restricted Delivery" box when he served them with legal process, and that this alone is enough reason to dismiss his suit. Unfortunately for the Thomases, who somehow forgot to include images of the offending documents in their response, these pictures made at the post office clearly show the box was marked on both cards for both envelopes: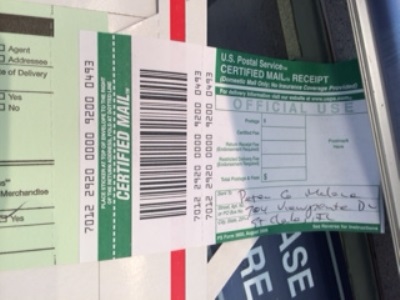 Having now committed perjury themselves, I have new questions for Lynn and her dad: first, did she lie to the bankruptcy court, too? Attorney Francis Ostronic says that Peter refused to accept service because he thought there might be a bomb in the envelope; was this another sign of Aaron Walker's lunatic influence? How is the judge supposed to consider them still not served in a lawsuit to which they have already replied? And when will these idiots stop trying to prejudice courts with the ancient history of the man they conspired to defame for the last two years?